Local IT Support - IT never stands still, so neither do we!
An agile, innovative and strategic approach to IT support

Bluecube is one of the UK's leading providers of outsourced IT support services, helping organisations of all sizes, both in the UK and overseas, work faster, smarter and more efficiently. Whether you're looking for a local IT support company to improve IT performance by utilising the right technologies or need to migrate to a reliable and secure cloud network that's fit for purpose, we're here for you.


IT Support, Cyber Security, IT Strategy, IT Infrastructure & Cloud Services
Having built longstanding proactive partnerships with clients in the local Milton Keynes and London areas, as well as other cities within the UK - operating in the not-for-profit, construction, education, life sciences, manufacturing, logistics and shipping industries, as well as many government-owned organisations. We deliver the IT infrastructure needed to re-energise and accelerate business performance. We constantly explore emerging technologies to drive innovation, helping you boost your competitive edge and adapt to the ever-changing needs of your staff and customers.
At Bluecube we have a number of offices nationally and internationally to ensure we can provide our IT services to our clients anywhere, no matter the time or place. See our UK locations in Milton Keynes, London, Oxford, Cambridge, & Leeds, and overseas in Ireland, the US (Boston, Seattle and Chicago).
24/7 IT Support

Our experienced IT engineers offer IT support 24 hours a day, 365 days a year. If an issue occurs, give us a call or contact our team using Lighthouse, our in-house service portal, designed to make communication with us simple and easy.
When you get in touch with Bluecube, you always have support available from a skilled IT engineer who understands your organisation's IT systems. We offer remote IT support and our field engineering team delivers fast on-site assistance so we can respond to a problem with attention to detail and care.
Rapid and reactive IT Support

24/7 Remote Monitoring of IT Infrastructure
24/7 IT Service Desk
Technical Remote and On-site Support
All Faults Resolved With Care and Attention
Contact us via our custom built Lighthouse Service Portal
Managed IT Support Service

With Managed IT Support that's truly tailored to your needs, we handle your IT infrastructure's day-to-day operation, delivering strategic insight, planning and ongoing maintenance — keeping your IT systems safe, stable and secure.
We take the time to listen and understand your concerns, ensuring your IT doesn't hold you back or keep you up at night, continually preoccupying your mind. Our commitment to being the best IT consultancy service is highlighted in our performance metrics, which shows we're in the top 5% of UK Managed Service Providers.
User Account Management (UAM)
Network Operations Centre (NOC)
Security Operations Centre (SOC)
Cloud Provision and Management



IT Security

Every business is under threat from cybercrime; it demands constant vigilance. Bluecube is continuously challenging itself and others to evolve as new cyber threats and methods emerge.
Our Cyber Security Solutions ensure you have the right IT infrastructure, tools and technology to protect your organisation's IT operations, data and assets against internal and external threats.
Your Client Engagement Manager (CEM) is always available to listen to any concerns you may have, giving you the clarity, confidence and operational resilience needed to lead your company.
Backup
Patching
Anti-Virus
Disaster Recovery




Average Client Satisfaction Score
"…IT support on the level that we could have never anticipated"
Geraldine Pipping
The Brain Tumour Charity
"Bluecube are very responsive. We feel valued as a customer."
David Morris
The Workers' Education Association
"Quality customer service is in Bluecube's DNA, a rarity these days. "
Ben Stern
Gray's Inn Tax Chambers
"Bluecube cares about its relationships with customers."
Shola Soyoye
IRRV
Protection Against Cybercrime
Cyber Crime continues to evolve rapidly, yet it's also growing in scale and complexity. It affects us all, which is why we're committed to helping businesses rise to the challenge, identifying and responding to threats quickly and confidently.
Effective cyber security requires multiple layers of protection to meet the challenges of today and tomorrow.
If you're anxious about your business's IT security or need to address a combination of pressing challenges, we can work closely with you to identify cyber-threats, protecting your critical data whilst minimising your overall cyber-risk.
Smooth Cloud Service Transition
As a Tier 1 Microsoft Partner and Cloud Service Provider, we will deliver a cost-saving subscription and cloud management solution designed for you — with the right subscriptions and security configuration.
With Bluecube as your IT service provider and cloud service, you can alleviate the stress and hassle of driving digital transformation.
With a supportive approach, our friendly team will help you evolve and adapt with a cloud solution that's efficient, secure, resilient, agile and built only for you.


Flexible 'round-the-clock' IT Support
Our local IT support services are designed to keep you running 24 hours a day, 365 days a year. Whether you require an on-site IT engineer to diagnose and resolve hardware incidents or need one of our remote technicians on our IT help desk to repair a Cloud Computing outage, we're here for you whenever, and wherever you need us.
We care deeply about quality.
Therefore, as crucial as it is to minimise downtime and improve productivity, we proactively identify areas with you IT infrastructure for improvement, enhancing your enterprise's overall resilience.


IT Strategic Planning & Maintenance
No matter whether you're seeking greater flexibility, improved IT service levels or looking for a dependable and resilient IT infrastructure that you can count on. Bluecube work closely with you to improve technology-driven performance and operate more efficiently.
Whether you need to increase the speed of your IT operations, enhance disaster recovery or upgrade to a hosted cloud solution (Azure, Google, AWS, Office 365), we will design, build and deliver robust, reliable and secure IT infrastructure that's fit for purpose — ensuring your IT never stands still.
Looking for a reliable, purpose-built IT infrastructure?
Our design, build, and project management services will provide you with a robust, reliable and secure IT infrastructure – that's fit for purpose.
We'll sort out all your business's IT infrastructure troubles.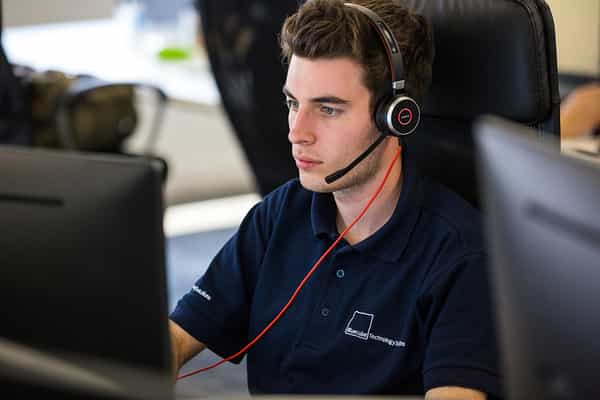 Searching for the perfect cloud solution?
As a Tier 1 Microsoft Partner and Cloud Service Provider, we will deliver a cost-saving subscription and cloud management solution designed for you, with the right subscriptions and security configuration.
We'll provide you with the right cloud computing solution.