Our headquarters in Central Milton Keynes allows us to provide specialist IT support to local businesses. As one of our clients, your business will have a team of 100 IT engineers within a 10-minute walk from your office. Any IT issues your company experiences will be solved quickly and efficiently by our IT helpdesk, reducing the risks IT problems pose to your business.
We deliver 24/7 IT support in Milton Keynes for all our clients to ensure every business we work with is always protected. Computer system problems, cyber security issues, and cloud management do not only happen between 9 to 5. For a business looking to succeed and experience as few IT issues as possible, 24/7 IT support is essential, which is why our team is available to support all our clients 24 hours a day.
If you're a successful business, you need an IT support provider that can scale as your organisation grows. At Bluecube, we have a large team of 100 expert IT engineers on-hand whenever your business needs us. As your company grows, we can adapt our managed IT services in Milton Keynes so we continue to support your business activities.
Bluecube IT Support - What Do Managed IT Service Providers Offer?
Our IT support performance metrics show we're in the top 5% of UK managed IT service providers. It doesn't matter how large your company's goals are or if you experience rapid growth as a business, our team of 100 IT engineers on our remote helpdesk can deliver effective IT support for your business.
As part of Bluecube's IT support, we offer:
24/7 IT Support
An IT issue can occur at any time, day or night. If this happens, your business needs the right processes in place to handle the problem before it has a negative impact. With 24/7 IT support in Milton Keynes, you can be constantly prepared for any IT problems.
Our large team of expert engineers can deliver support remotely 24-hours per day, 7 days a week. Whenever an issue reveals itself, contact our helpdesk for immediate expert assistance. Having access to IT support whenever your business requires it removes the risk of unplanned downtime, cybersecurity issues, and data losses.
2

4/7 Remote monitoring
Service desk always available to answer questions and resolve IT issues
Tech support, remote and on-site
On-site IT engineers available
Bespoke IT Support
For IT support to be effective, it needs to be tailored for each individual business. Every organisation is unique, which means they will face different challenges and have different goals. Whatever your business's requirements are, Bluecube's team of over 100 engineers can help you optimise your organisation's IT infrastructure to improve productivity, IT security, and reduce the risk of downtime.
User Account Management
Network Operations Centre (NOC)
Security Operations Centre (SOC)
Cloud Provision And Management
Remote IT Support & IT Helpdesk
Our remote IT support in Milton Keynes allows issues to be dealt with quickly and efficiently. Whenever you need support, you can access it at any time, immediately. Contact Bluecube's IT helpdesk in Milton Keynes and one of our engineers can start fixing the issue remotely. This will save you time as you don't have to wait for someone to visit your site and reduces the impact IT issues have on your business.
2

4/7 remote monitoring of clients' IT infrastructure
Tech remote support available 24/7
IT helpdesk to contact with any questions
Remote management of end-user systems
Fill in the form and we'll be in touch
Finding the right IT Support in the local Milton Keynes area can be difficult. That's why we offer a personal service for each of our clients. So, you get the right IT Support that is perfect for you. If this sounds like something you can't afford to miss out on, fill in our enquiry form below and one of our friendly team will be in touch.
Managed IT Support Services in Milton Keynes
Looking for Managed IT Support in Milton Keynes? As your company grows, your organisation will need to expand its IT capacity to handle the increased demand.
At Bluecube, our team's IT support service scales to match the needs of your business, whether your organisation is a multinational corporation or a local company operating across Milton Keynes or the broader Buckinghamshire area.
Our 100 IT engineers offer managed IT support that's bespoke to your business, no matter how big or small your company is. We modernise your company's processes and implement the latest technology so your organisation is operating efficiently and effectively. By delivering proactive IT support services that routes out small issues to stop them escalating into problems that affect your business, we guarantee our clients are always prepared.
Proactive business IT support also includes planning for your organisation's future. Our team sits down with every client and finds out the goals their business has. Once we understand these goals and objectives, we will plan and carry out IT strategies that enable your company to achieve them.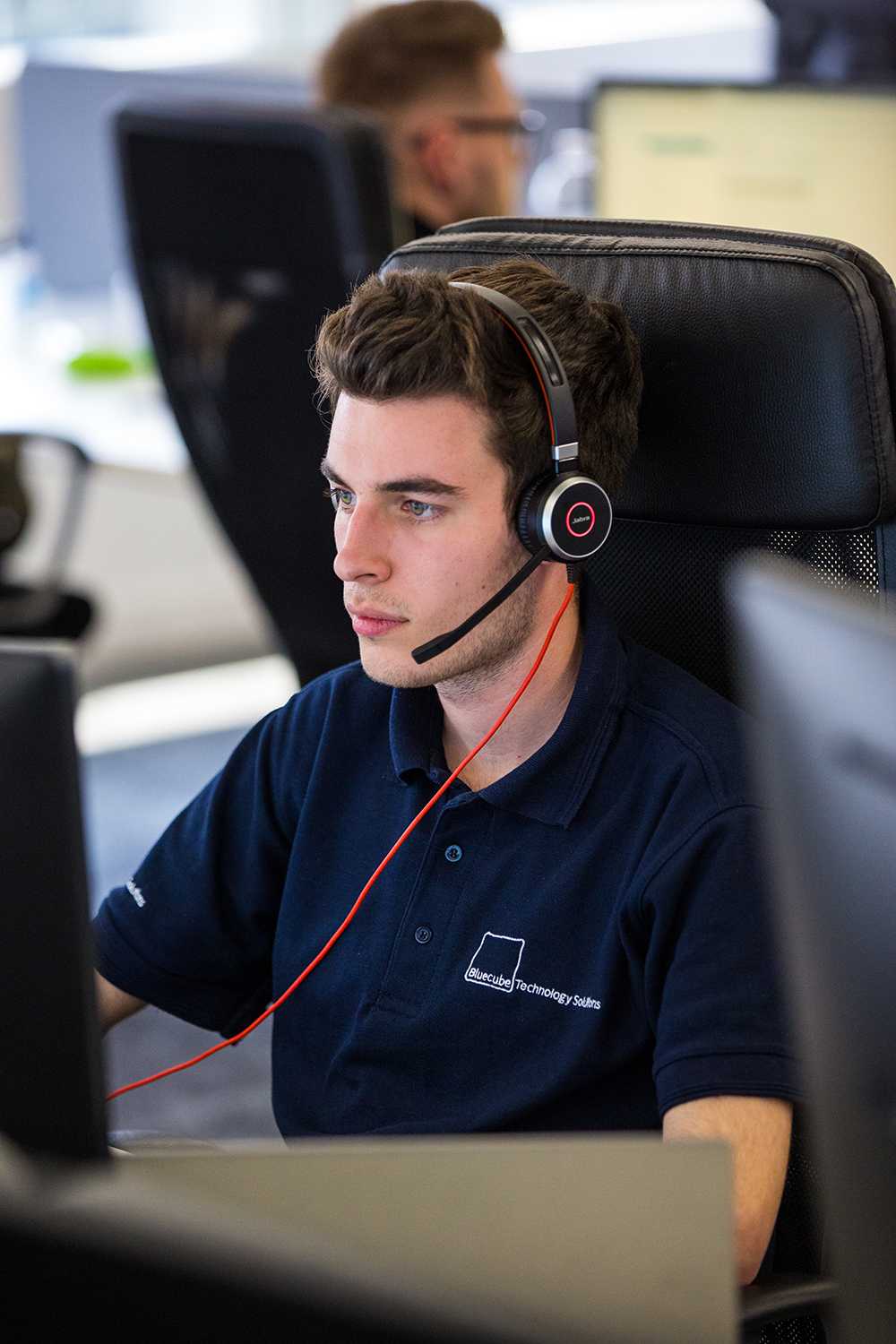 Business IT Services in Milton Keynes
As part of our managed IT services, every business we work with has a dedicated client engagement manager. They will research all aspects of your organisation, discuss requirements with you and your team, and understand your company's industry. Having a point of contact allows us to deliver a personal IT service. Your staff do not have to communicate with a random voice on the other end of the phone, instead they can contact someone they know and who cares about your business.
Cloud Services in Milton Keynes
Cloud services allow your company's staff to access IT systems and data securely from anywhere with an internet connection. Our team of IT engineers are experts in cloud computing and ensure your business's transition onto the cloud is simple and stress-free. We adapt quickly to connect your organisation's staff so they can collaborate and communicate effectively. Our team will tailor the cloud services we deliver to your business's requirements.
IT Security in Milton Keynes
Effective IT security is essential for your business to succeed. Installing a combination of cyber security tools safeguards your business against any malicious cyber-attacks. Our team also implements processes that mitigate the risks IT security breaches pose, so your company's data and computer systems are always protected. Speak to our team about IT security in Milton Keynes.
Looking for a new IT Support Provider in Milton Keynes? Get in touch today for more information on our services
Managed IT Services in Milton Keynes, Buckinghamshire
For any business to succeed, it needs IT it can rely on. When an organisations IT infrastructure is aging, slow, and doesn't meet its needs, that's when a business can stagnate. To evolve and grow as a Buckinghamshire-based company, you may reach the point where you need to install a brand-new IT infrastructure with a core set of managed IT services that matches your company's goals and the requirements of your business.
IT Infrastructure
At Bluecube, as part of our managed IT services in Milton Keynes, we can help set up an IT infrastructure tailored to your business. This process can be challenging, which is why you need support from a managed IT service provider in Milton Keynes that takes into account how your company operates. Our dedicated IT engineers can migrate all of your business's existing data to the new systems to make the transition simple and easy.
Once your business's IT infrastructure is installed and assisting your staff's day to day operations, we will continue working with you to improve it. Our team will refine details based on your feedback, this includes making adaptations to scale your organisation's IT infrastructure alongside growth. As time passes, your company's IT systems will improve as we make changes, so it better suits your business activities.
One of the biggest challenges modern businesses face, is how to secure and access their data. With specialist cloud services such as Microsoft Azure, Google Cloud or Amazon Web Services (AWS), your organisation can transform how you operate. At Bluecube, we're experts in providing public cloud, private cloud, and hybrid cloud solutions in Milton Keynes and for businesses based across the Buckinghamshire area.
Cloud computing allows users to access resources on-demand as long as they have an internet connection. This ensures your staff can communicate and collaborate to improve your organisation's productivity. Our team of engineers can help your business transition to cost-effective cloud services designed to meet your company's requirements.
One of the most important aspects of a business's IT infrastructure is cyber security. It's essential that an organisation protects itself online with IT security in Milton Keynes, and ensures there are processes in place to secure data and users while they're working. With our cyber security services, you can protect your business online and reduce the risk of cyber-attacks.
Backup: Protect your business's valuable data by backing it up and decreasing the impact of any data loss.
Patching: Update, fix, and improve any existing computer programs to safeguard your business's IT infrastructure by removing security vulnerabilities.
Anti-Virus: Our team will install the best AV software for your business that will detect and remove viruses from your computer systems.
Disaster Recovery: Any successful business needs a disaster recovery strategy to reduce unplanned downtime if a significant negative event occurs.
We aim to provide bespoke IT security solutions and cyber security services in Milton Keynes for every client that we work with. As every business is unique, they will face different cybersecurity challenges, which our team of engineers can protect your organisation against.
IT Support Services For Local Businesses in Milton Keynes
Bluecube provide managed IT support in Milton Keynes for businesses of all sizes across the local area, including local companies based in Wolverton, Bletchley, Newport Pagnell as well as those based in the wider Buckinghamshire area, such as Aylesbury, High Wycombe and Beaconsfield.

As our global headquarters are based in central Milton Keynes, in between the A5 and M1, we're easily accessible for businesses looking to drop in and chat to our team to find out more about our IT services. We're a short 5 minute drive or 20 minute walk away from Milton Keynes Central Station, making our office reachable from other places within the county or wider Midlands area.
MK Gallery:

Case Study

MK Gallery is a contemporary gallery situated in the heart of Milton Keynes on Midsummer Blvd, bringing the best cultural and art activities to the local region.

We have supported them for over 15 years, providing ongoing IT support and services.

"Bluecube has delivered good service over a long period of time – over and above."

Kate Chadwick, Deputy Director at MK Gallery
Medical Research Network: Case Study
Medical Research Network (MRN) is based in Crownhill, Milton Keynes and is a market-leading specialist in community-based trials to the pharmaceutical industry.
Bluecube provide MRN with global 24/7 IT support. As they operate internationally and require the same level of service everywhere, we look after all the IT Infrastructure and IT Support, including telephony, hardware procurement and software licencing.
"We have a major reliance on our IT environment to support our growth plans."